Serbian School
SERBIAN SCHOOL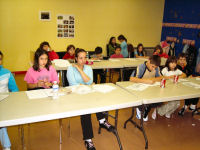 | | |
| --- | --- |
| Ljiljana Culum | , professor in Serbian language |
| Dragica Jankovic | , professor in Serbian language |
After only one year of attending classes, your children will amaze you with their knowledge of the Cyrillic alphabet, the Serbian language and grammar. For this terrific accomplishment we have to thank our teachers Dr. Baturan, who is the professor of Serbian language and literature, as well as Ljiljana Culum.

Our main objective is for the children to keep up with the Serbian traditions and cultures by interacting with one another in the Serbian language. We are very proud of the enthusiasm we receive from our parents and members of Oplenac.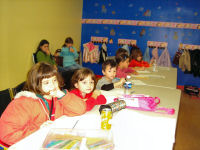 The President of Serbia-Montenegro acknowledged SCA Oplenac with the highest recognition for preserving the Serbian culture and reaching out to the Serbian community. We are honoured for receiving this merit and are proud to be categorized with some of most famous folk dance ensembles in Serbia such as "Kolo", "Krsm nac", "Abrasevic", "Spanac" and "Sonja Marinkovic".
COME JOIN US!
Additional information