Fairy from Oplenac
Association of Women - Fairy from Oplenac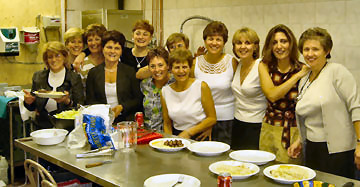 Driven by ideological essence "Circle of Serbian Sisters" at the Annual Assembly of the SCA and Oplenac, in March 2005, formed the group "Fairy from Oplenac", with the noble desire - to give you more support and help in the work of all members of society.
Group "Fairy from Oplenac" worked with zeal during the previous season, providing help where it was most needed. Countless hours of community service were invested with great affection to the common idea of ​​socializing children, parents and friends of SCA and Oplenac.

Working committed to making costumes for the performances of our children, many members of the group provided a fine example of how young people can be joint efforts to achieve exceptional results. Selfless stand out very valuable members of the "Fairy from Oplenac" who helped to ensure continuous operation of a SCA Oplenac.
Whether it was on the procurement activities, sewing, cooking, or the maintenance of the building, the "Fairy from Oplenac" provide evidence of warmth and humanity of the common effort in order to preserve their own culture and survival of the Serbian population in the North American continent.
If you want to become a member of this association and contribute to the preservation of Serbian culture and tradition, let us e-mail or telephone.
More photos of the Women - Villa with Oplenac you can find here ...
Additional information